Sea Foam - Oceanfront Motel in Nags Head, NC
Come Join Us On The Beach…    for a vacation like they used to be.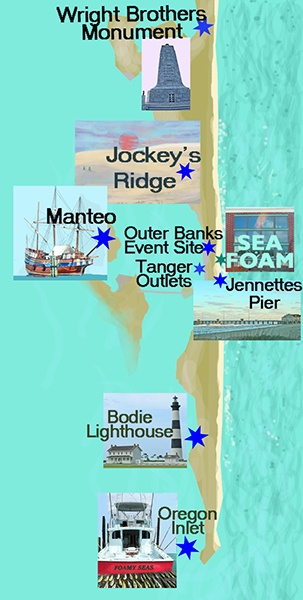 The Sea Foam is a historic, oceanfront motel in Nags Head, NC, conveniently located along the Outer Banks (OBX) between the two mainland bridges. The OBX is comprised mainly of beach cottages of all sizes with virtually no high-rise properties giving it a laid-back appeal. The Sea Foam fits right in, with a relaxed setting popular with families and individuals in North Carolina and Virginia, but also serving a significant number of regular guests from the Mid-Atlantic, New England, and Mid-West regions of the country. We offer the best accommodations available in retro motels.
Included in the National Register of Historic Places, the Sea Foam Motel offers our guests a welcome change from chain motels and provides a throwback reminder of vacations taken during years gone by. Many guests leave their car parked during their stay knowing they can walk to several fine restaurants or a market to pick up groceries to prepare in their room. The Sea Foam is next to Jennette's Pier, popular for strolling, fishing, and ocean and sun-rise viewing, with facilities for marriages and other functions. We are just minutes from the historic town of Manteo, Jockeys Ridge State Park, Wright Brothers National Memorial, Oregon Inlet Fishing Center, and Bodie Lighthouse, in addition to great restaurants and shopping. Our convenient location makes us the best rooming option of the local hotels and motels.
Park and walk to the Outer Banks Event site, Jennettes Pier, several fine restaurants, Tanger Outlets and more! Other budget motels can't hold a candle to our history or service. Book today!
Sea Foam Motel Most of our guests are regulars and you might well meet somebody who has been coming to the Sea Foam for more than 20, 30 or even 40 years. What stands out for many of our guests is retro feel and the friendly atmosphere where new visitors quickly make friends and are soon visiting on our patio, by the pool, or enjoying a game of shuffleboard or corn hole. Our main attraction will always be the beautiful oceanfront beach directly behind our motel where you can swim, relax, read a book, take a stroll, jog or watch the sunrise from our gazebo while enjoying a cup of coffee. Because of our service standards, we stand out from other oceanfront motels.
When you are ready for something different, climb Jockeys Ridge to fly a kite or watch the sunset, experience history at the Wright Brothers museum and memorial, stroll through the quaint town of Manteo, shop at Tanger Outlets, or enjoy a meal at any of the many popular area restaurants. Whatever your preference, you will notice the distinct Nags Head outer banks personality that invites you to simply relax and enjoy your stay!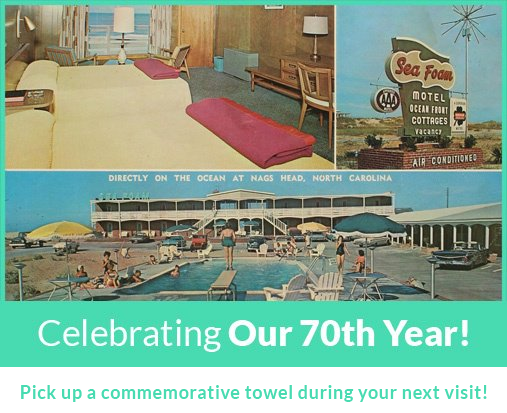 We are on the oceanfront just steps from the beach and an outdoor Swimming Pool
Included in the National Register of Historic Places we provide a throwback experience of vacations like they used to be.
Our rooms include Standard, Efficiencies, and 2-bedroom suites (we call 'Cottages').
Some rooms are 'pet-friendly'. Just give us a call.
We are a friendly, and personal motel: We come to know many of our guests and have long-standing and loyal clientele, some over 40 years extending across generations to children and grandchildren.  Many guests engage with other guests and often make friends that they see in future stays. Very family oriented.
We are at a convenient location

next to Jennettes Pier popular pier for fishing, with facilities for functions including marriages.
Town of Manteo - 5 minutes across the bridge, historic charming little town with many events including a popular summer-long play 'The Lost Colony'.
Tanger shopping outlets 2 blocks away
Jockey's ridge state park - large sand dunes popular for climbing, kite flying, and sunset viewing
Wright Brother memorial - national park where first successful air flight took place
We order a new collector's coffee mug every year. Don't forget to get one when you come!
What Our Guests Have to Say
"We would have been lost without your hospitality. Stayed with you after hurricane Matthew went through and we could not get to our beach house. You helped turn a stressful time into an adventure we will always cherish! Thank you so very much!"
"We had a phenomenal time at the sea foam this year. The rooms were clean. The grounds and pool were immaculate. The front desk personnel top notch--super friendly. It was an all around 10+ rating."
"First time visiting the Sea Foam and absolutely loving it! Staff is nice. Helpful and friendly. The beach is right outside our room and great stores right across the street. Also, they allow pets. We stayed in a room with a kitchen and it was fabulous. Will definitely be staying here again!"
"The Sea Foam has been my family's home away from home for four generations. It is run by good, honest, friendly and helpful people. The location can't be beat: you have the beach right there, gourmet food directly across the street (Owens Restaurant), a casual and comfortable restaurant/bar (Sam &Omie's) a block away, right across from a small grocery (Cahoon's Market) and you'll pass an ice cream shop and a place to rent bikes on the walk back to your room. I love this place."
Read more reviews or leave your own on any of these sites:
Call Us Today
Our staff at the historic motel is always ready to provide you with the information about the motel. Call us today for information on our motel rooms and things to do. We look forward to serving you!
For more information about things to do or upcoming area events, check out www.outerbanks.org.